Biofach in Nürnberg
- where organic people meet
15th - 18th of February 2017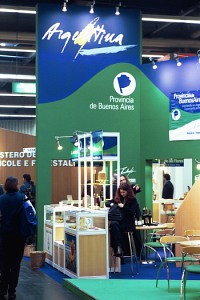 Argentinean stand at Biofach
The largest organic fair in the World is held in the German city Nürnberg - (Nuremberg) - and organic companies and in February every year people in thousands from the rest of the World go to Nürnberg in Germany to do business and meet other with organic interests.
Biofach is not only the largest but also the oldest of the large organic trade fairs in the World. It started in 1989 with only few participating companies and was for several years taking place in Frankfurt am Main. Today more then 2500 companies exhibits at the fair and more than 45.000 visitors come to see the exhibition or take part in the conference connected to it.
Today Biofach is organized by Nürnberg Messe that has expanded the fair also abroad. Today there are regional Biofachs also in Tokyo (Japan), Boston (USA), Sao Paulo Brasilia (October) and now also in Shanghai in China.
Every year companies from 120 countries in the World exhibit at Biofach. Also organic companies from Denmark - although Danish organic companies traditionally are rather few. In 2009 however the Organic Denmark will be promoted intensively since Denmark has been chosen to be the organic country of the year on Biofach in Nuremberg.
The main purpose by participation in Biofach is of course to sell and buy organic food products. But for several years also natural cosmetics and even organic cosmetics have had a place on Biofach. Lately organic cosmetics has got a separate fair - Vivaness - connected to Biofach and this part of the organic fair in Nürnberg has actually been the fastest growing part in the last couple of years.
In 2008 Biofach has decided to reintroduce also organic fashion and textiles in a special hall. The organic textiles disappeared some years ago and another German fair InNaTex has been more important in this sector, but the public interest to organic textiles has grown dramatically and now Biofach wants to be part of it again.
Apart from the fair Biofach is hosting an organic conference which takes part simultaneously with the fair. The conference covers a wide range of themes and up to 9000 people take part in one of several of the sessions at the conference.
Read more about Biofach